Diapositiva {CURRENT_SLIDE} de {TOTAL_SLIDES} - Buscar por Red
Buscar por Capacidad de almacenamiento
About Google Pixel
Showing slide {CURRENT_SLIDE} of {TOTAL_SLIDES}
Meet Pixel, phone by Google.

It has the highest rated smartphone camera. Ever. A battery that lasts all day. Unlimited storage for all your photos and videos. And it's the first phone with the Google Assistant built in.

Get answers.

Know when local places close, if it's still going to rain on Saturday, and if your favorite team won last night.

Manage everyday tasks.

Make a dinner reservation, set a reminder, and text your friend the info.

Be entertained.

Play music by Sia then watch her music video, and check when she's on tour.
eBay has provided more information about this product above and is not affiliated with or endorsed by Google.
Price Trends
Google Pixel - Price Used
Used Price*
from $78 to $104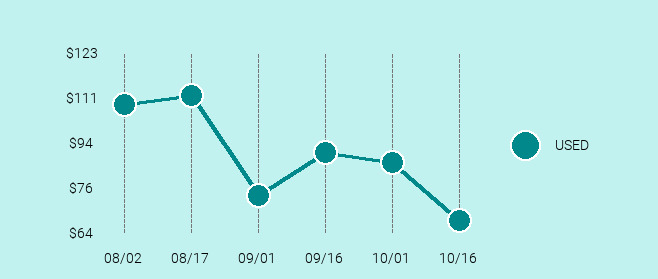 *The average sold price is calculated based on "Buy It Now" items sold within the 90 day period described above (excluding shipping and handling). Each interval represents a 15 day period. There is no guarantee that items will always be listed at a price within the provided range.
Compare Similar Models
Google Pixel
Operating System
Android 7.1 (Nougat)
Resolution
1080x1920 pixels
Internal Memory
32/128GB ROM, 4 GB RAM
CPU
2.15 Ghz + 1.6 Ghz Quad-Core
Showing slide {CURRENT_SLIDE} of {TOTAL_SLIDES}
Google Pixel 2

Operating System

Android 8.0.0 (Oreo)

Resolution

1080x1920 pixels

Internal Memory

64/128 GB ROM, 4 GB RAM

CPU

2.35 Ghz + 1.9 Ghz Octa-Core

Google Pixel 2 XL

Operating System

Android 8.0.0 (Oreo)

Resolution

2880x1440 pixels

Internal Memory

64/128GB ROM, 4GB RAM

CPU

2.35Ghz + 1.9Ghz Octa-Core

Google Pixel XL

Operating System

Android 7.1 (Nougat)

Resolution

2560x1440 pixels

Internal Memory

32/28GB ROM, 4GB RAM
Top 5 High ratings
Top 5 Low ratings
Great price for a brand new pure Android device.

I received my new Pixel-1 one day early in a wholesale box as promised. Appeared brand new. Came with a power cord and brick. It would not charge out of the box so I used one of the fifty bricks I had laying around with the provided power cord and it charged fine. I popped my sim card in, signed into google account and transferred data with no problem., I am not a real stat weenie. Phone works great and it is a huge upgrade from my MOTO-X(gen 1). Very intuitive for me going droid to droid with zero bloatware. I really like the fingerprint reader position on the back of the phone that when touched ID's me and opens the phone., One thing that puzzles me are these vertical streaks that appear on the screen after being carried around in my pocket for awhile. It seems that it may be some adhesive residue or something. I have tried screen cleaner and it still is not resolved. No a really big deal in the grand scheme of things. Maybe it will resolve itself.

Verified purchase: Yes

Sleek af phone

So previously I had a Blu R1 HD, which was a lovely Android phone, I loved it so, except for the fact that it couldn't receive calls reliably. That's a pretty core part of my needs from a phone, so with a heavy heart I went in search of another phone. I did plenty of research, and kept coming back to the Pixel. I wanted something as good as an iPhone but still Android, and this is exactly what this is. In my studies I read multiple reviews of the Pixel saying it overheated, it has poor sound quality, etc etc. When I received it, I plugged it in and started setting it up, and it proceeded to get super hot. I was thinking, "I should have listened to them, or just not have gotten a refurbished one. Oh well I'll give it a go and maybe return it if it keeps this up." Well fortunately it's never done it again, and works great. I will say I do hear random clicks once in a while, while talking on the phone, but it doesn't bother me too much since it receives calls fine. Also, the only way you can tell this phone has been refurbished is it has a bunch of tiny little nicks/scratches on the back, but I use a phone case like a sane person so it doesn't even show, and even if it did who cares. And of course the camera is phenomenal, but if you did your research you already knew that. This is a great Android phone for a great price.

Verified purchase: Yes

Android at almost it's best.

With all the hype over smartphones these days it's almost refreshing to watch Google get their feet wet with their first flagship, the Pixel., , I've had this device for a little over three weeks now and while it has a ton of strong attributes it falls short on a lot of features that normal flagships have. I'll start with those and work into the good., , Hardware, , The first main one being expandable storage. You simply can't overlook something as simple as this when delivering a premium product to market., , Secondly headphones, almost ever new phone with the exception of maybe apple products come with free headphones even a base pair not really a deal breaker but it does sorta merit a mention., , OLED Display, Again 2017 while this is still a premium phone and can handle almost anything you can throw at it having a display that can handle the same is particularly key when developing and desgining a device thats gonna be utilized by potentially millions of people., , Wireless charging, Again other brands have had this technology for almost a decade and have been putting more innovation and research into this specific field to ensure safety for all of it's users. Also it preserves the life of the phone from cord and socket damage. We not always the most delicate when it comes to handling our phones and wireless charging wouldve been an awesome feature to have on a flagship., , The Good, , Software, Android Oreo is amazing! The UI could be a little more customizable without adding a ton of app store add-ons. However, the benefit of receiving Android updates and beta testing apps makes it all the worth while to have this phone. It operates seamless and downloads and connecting to WiFi and Bluetooth devices., , The body is solid anodized brushed aluminum with a ceramic glass top half that ensure definite connectivity to WiFi , Bluetooth and approved service providers., , Battery life is amazing, Lighting fast charging makes this thing charge to 50% in a little under 30mins big plus. I charge up to 100% and my battery usually last about a day and a half and even though I purchased it refurbished mint it still feels like a brand new phone even being a year old. No visual blelmishes or marks. No scratches nothing., , With all this talk over new phones costing almost a thousand dollars it's cool to know that if you look hard enough you can still time a steal of a flagship that's only a year old. Will definitely purchase my next piece of refurbed tech from this EBay store.

Verified purchase: Yes

I'm an Apple guy - and I consider this the perfect Android phone

I've been developing software for the iPhone for years, and I'm just getting into Android development - so take this nerd's perspective for what it is., , The most important factors for me in choosing an Android phone were:, , • Runs stock Android without extra software from a cellular vendor, • Great screen, • Great battery life, , I got all those things and more with the Pixel Phone. Google nailed it with this phone - it's super-responsive, the screen is gorgeous, and I love knowing I'm on the most recent Android version nearly as soon as it's available. This is a secondary phone for me without a sim card - but I find myself using it daily more than my iPhone. I've only been charging the battery every other day and that has not been an issue at all. The camera is also fantastic., , The only thing I dislike about this phone is the fingerprint reader. The back of the phone is a strange position for the way I use my phone, and it only gets my fingerprint about 1/4th of the time. Thankfully I set it to stay unlocked as long as the phone is on my body, and that prevents me from having to use the reader very much anyway., , I highly recommend this phone to anyone new to Android, or anyone who wants as close to Google's ideal Android phone as possible.

Verified purchase: Yes

Very good Android phone

Great camera, smooth operating system. Not as fancy as Galaxy S7, but nice-looking phone with good build quality. And none of the software junk that some phones provide. The bottom "chin" part of the phone, which some have complained about, is not very noticeable and in fact is a good thumb rest. The fingerprint sensor on the back works well. The phone component is not as good as an iPhone 6s (more echo and noise at times), but it's good enough. Duo works well vs. FaceTime, and Google IM works as good as iPhone Messenger. Overall, the Pixel exceeds the iPhone 6s in these areas: Google apps (especially Contacts), camera (sharper pictures, especially in low light), battery life (the 6s often runs out or quits at low battery levels, while the Pixel goes all day). Would not go back to iPhone after using Pixel, and I've used every iPhone model from the original to the 6s.

Verified purchase: Yes