About HTC Droid Incredible 2
Showing slide {CURRENT_SLIDE} of {TOTAL_SLIDES}
A travel companion you will not get tired of.

Stay connected all over the world; the Incredible 2 runs on the CDMA network but switches to GSM automatically. Roam one day in the U.S. and Europe the next.

SRS technology makes everything sound better.

Pull up your favorite playlists and listen to audio in surround sound. It's like carrying a theater system in your pocket.

Capture quality shots on the fly.

Use the 1.3MP front camera to take selfies or use the 8MP rear camera to take vacation photos and impromptu videos at 720p and 30 frames per second.

Enjoy an upgraded display.

Compared to the prior model, the 4-inch LCD screen is noticeably larger. The wider viewing angle and S-LCD screen makes images seem more brilliant.
eBay has provided more information about this product above and is not affiliated with or endorsed by HTC.
Compare Similar Models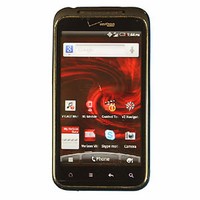 HTC Droid Incredible 2
Operating System
Android 2.2 (Froyo)
Internal Memory
1.1 GB ROM, 768 MB RAM
Showing slide {CURRENT_SLIDE} of {TOTAL_SLIDES}
Top 5 High ratings
Top 5 Low ratings
Great phone

I dropped my original face down on a brick patio and shattered the screen. It's not like this is a fragile phone, it was a rubberized case and I've dropped several time befor expectig damage. I liked the phone so much I investigated replacing the glass myself, but the replacement was so cost effective, I decided to replace. This phone is smaller than the current offerings in the market, a plus for me because I don't want to carry an iPad in my pocket or even more important, hold one up to my ear. No problem with the 3G, it is plenty fast and the phone works great on wi-fi. The new phone is better than the first, great display, fast, great reception. No problem activating; I did it on Verizon's website in about 10 minutes. Initially I thought the battery did not last as long, but the life seems to improve with each charge. The version of YouTube that comes with the phone is ad free which is a real plus because I use that app as much as the phone to listen to music. Only drawback is it comes with an earlier version of Android (2.3.4) so it limits you on new apps you can install for newer versions. If you are so inclined, there are videos out there that explain how to root the phone and install Android version 4 or greater. Also, it won't receive MMS messages unless you are on the 3G, but that may be an issue with all phones. Our friends at Apple seem to send MMS formatted messages by default

Verified purchase: Yes

Excellent phone.

This is a giant step up from the old Blackberry I've been using. I don't need all the "bells and whistles" but they're there if YOU want them. The touch screen is extremely sensitive and you can download the user's manual. The main thing I wanted was the bigger screen so I could actually see pictures I send and receive and that 8mp camera is very nice. The that came with it was kind of feeble so I bought a bigger one with a cover to go with it. You can see my review of that on eBay.

Verified purchase: Yes

2nd Phone

I purchased this phone to take the place of my first HTC Droid Incredible 4G LTE. It was over 2 years old, and I was starting to have some issues charging it. They are so easy to use, and not very large. I have already transferred over my contacts to the new phone, and I am now using as my every day phone. I got the phone 2 days ahead of the scheduled delivery date, with no hassles at all. I am very pleased with my purchase!

Verified purchase: Yes

Love this phone!

Upgraded from another brand that was acting up. Bright, sharp, responsive screen; good GPS and wi-fi reception. Battery life could be longer (mine came with an after-market replacement), and speaker phone quality a bit more clear. For the price, a good deal.

Verified purchase: Yes

Great 4G Phone

Got this to replace an old 3G Droid Incredible that has an unlimited data plan. Kept my plan, got a "small" smartphone and the price was unbelievable! A fraction of the cost of newer phones that can't do anything more!!! Also, the phone looked and operated just like brand new!

Verified purchase: Yes