Buscar por Capacidad de almacenamiento
About Microsoft Surface Pro 2
Showing slide {CURRENT_SLIDE} of {TOTAL_SLIDES}
All the programs you need.

Surface Pro 2 is compatible with all your favorite Windows software, including the entire Microsoft Office suite. Surface Pro 2 also has built-in security features.

Ports help you do more.

Bring your media collection with you wherever you go. A microSDXC card slot lets you add up to 64 GB of extra storage. Full-size USB port and Bluetooth 4.0 provide clutter-free connections with wireless mice and headsets.

Built-in kickstand.

The integrated, dual-position Kickstand provides stability and support to use Surface Pro 2 anywhere. The second position is optimized for your lap, giving you more flexibility.

Windows 8.1 Pro.

The touch-friendly Windows 8.1 lets you put your favorite apps, sites and people on the Start screen. Get live updates at a glance. Split your screen and run two apps side-by-side.
eBay has provided more information about this product above and is not affiliated with or endorsed by Microsoft.
Price Trends
Microsoft Surface Pro 2 - Price Used
Used Price*
from $124 to $264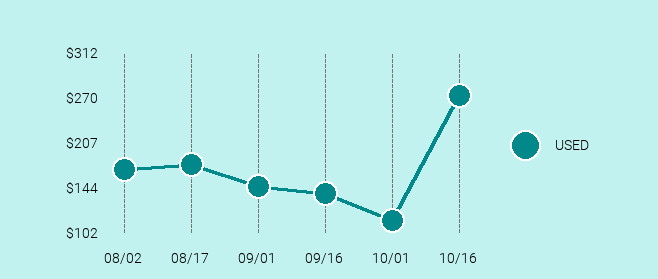 *The average sold price is calculated based on "Buy It Now" items sold within the 90 day period described above (excluding shipping and handling). Each interval represents a 15 day period. There is no guarantee that items will always be listed at a price within the provided range.
Compare Similar Models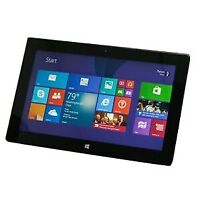 Microsoft Surface Pro 2
Internal Storage
64/128/256/512 GB
Processor
1.6 GHz dual-core
Operating System
Windows 8.1 Pro
Battery Capacity
7 - 15 days stand-by
Showing slide {CURRENT_SLIDE} of {TOTAL_SLIDES}
Microsoft Surface Pro 3

Internal Storage

64/128/256/512 GB

Processor

1.9 GHz dual-core

Operating System

Windows 8.1 Pro

Microsoft Surface Pro 4

Internal Storage

128 GB-1TB

Processor

2.4 GHz dual-core

Operating System

Windows 10

Microsoft Surface RT

Processor

1.3 GHz Quad-core

Operating System

Windows RT
Top 5 High ratings
Top 2 Low ratings
The Complete Package

This Bundle gives you the ultimate Surface experience. The Surface Pro 2 itself is far better than any of the versions which have been released since (as of the date of this review) For artists, the 1,000+ levels of sensitivity on the included Wacom stylus are far preferable to the 256 levels available on later models. For musicians, the Surface Music Kit accessory (available separately), and free sampler program are extremely beneficial and not available in any later Surface models. This Bundle not only includes the very best Surface Pro 2 model, it also includes everything you might need to fully enjoy it. The lightweight and surprisingly sturdy Touch 2 keyboard with backlighting makes typing a breeze. The docking station allows you to connect several USB devices as well as an external screen, so you can instantly enjoy a full desktop PC experience from your Surface. The value is exceptional, and I cannot recommend it highly enough.

Verified purchase: Yes

A SP2 in 2017

As an artist who primarily works on Apple products, I was looking for a device to function as a great drawing tablet, but could also function as a full fledged computer. The iPad Pro was tempting when it came out, and while the pen input is great, not only is it costly but iOS has many limitations in terms of being a computer., , After a ton of research, and looking over all the hybrid offerings out today, I actually started to look back a bit, and the Surface Pro 2 started to shine just a little brighter. For one, as a computer its power is almost on par with my 2013 Macbook Pro, but really the selling point for me became the fact that this was the last SP model to include Wacom's digitizer. It's a platform I trust as my primary use for drawing tablets, but also something integrated into my old Toshiba Portege tablet PC, so understanding how that works under a screen had already convinced me of its usefulness., , All in all, while the SP2 might not fully match up to its beefier newer siblings, it also costs a fraction of the price, and it still surprisingly robust as a computer. The main pen jitter issue that has dogged the newer SP's and their competitor cousins just isn't an issue here. So if you're looking for a great drawing tablet that can run any Windows software, and can double as a competent laptop, then consider jumping back a couple generations. For me, I was pleasantly surprised.

Verified purchase: Yes

Good balance between processing power and portability

My only complaint about this computer is that the track pad on the type cover isn't very sensitive. Scrolling is jumpy, and it's hard to click and drag things without the item you're dragging getting dropped before you let go of the track pad. It's better to use the pen or an external mouse for dragging, and it's better to use a mouse for the pen tool in Illustrator., , But I love everything else. The build quality is solid; it doesn't feel cheap or flimsy. Windows 10 runs great on this machine, and so do my Adobe CC apps. Video editing with Premier works great on this machine, except it complains about the screen resolution, so I use an external monitor for that. But that's pretty much the one thing I use an external monitor for--that and testing desktop-sized websites. The built-in screen is really nice for everything else. I like typing on the type cover; the back lighting is really good and the keys are nice and springy. The pen is fun to use, especially with OneNote and Illustrator. The Surface Pro 2 is also easier to carry around than a laptop, and the extra USB port on the charging block is a nice touch; I don't have to carry a separate phone charger., , This machine is my daily driver now; it does everything I want it to do, and it replaced both my iPad and laptop, which is nice because I don't like switching between separate devices. I love having something that runs both desktop apps and tablet apps harmoniously. Fantastic device overall!, , The model I have has a 1.9-2.5 GHz dual-core i5 processor, 8 GB of RAM, and 256 GB of storage, if that helps.

Verified purchase: Yes

What I really wanted and for only a little over $200

I purchased a Chinese tablet the CHUWI Hi10 Pro with the add on keyboard. It had attractive specifications, the iPad laminated retina display, and OK processor with great power management, dual boot to Android, for when you need to use Android and a really nice, rugged aluminum shell. Well, there were lots of things right but there were lots of things wrong. First of all the keyboard, when closed, allowed for the track pad to rub on the tablet screen. The tablet screen was made of soda-lime glass and was easily all scratched up. The laminate also came off part of the screen. The power management of the tablet made it so that powering up from sleep took over a half of a minute. The keyboard was terrible. Well, actually it was the track pad on the keyboard but while typing and even if you didn't touch the track pad, the mouse cursor would jump to other portions of the screen and typing would continue in some random location. There were more issues and I know this is supposed to be a review of the Surface Pro 2 but I just wanted to say that I purchased it to replace the CHEWI tablet. There's really only a couple of thing that I don't necessarily like about it (the thickness and the aspect ratio of the screen) but it really is a joy to use when I compare it to the thing I replaced. If you're thinking of a Chinese knock-off, think twice, a used Surface Pro 2 is a much better choice. The power management isn't that bad, either (Microsoft went through a period of pain but finally fixed it).

Verified purchase: Yes

Microsoft Surface Pro 2

I bought this tablet for college., I personally think this tablet is heavy compared to most other tables. Although it is not as bulky as a laptop so its great for typing in a small area like a desk. This tablet might be small but it's internet browser and start-up time is fast. It runs blackboard and other online modules without any problem :) I also didn't have any problems with any of my online interactives. I even recorded my professors lecture (Audio only) on this tablet. My professor was not using a loud voice and the tablet picked it up very well. The tablet is MUCH better than my laptop at picking up voice recording. I did not purchase the Windows Stylus I bought a general non -bluetooth tablet pen $6.00 at Walmart and it's pretty good at highlighting text on my electronic notes. I bought a Bluetooth keyboard it works good with the tablet no issues. Over all in glad I bought this for college.

Verified purchase: Yes