Diapositiva {CURRENT_SLIDE} de {TOTAL_SLIDES} - Buscar por Modelo
1 - 48 de 1.072 resultados
About Microsoft Xbox One
Showing slide {CURRENT_SLIDE} of {TOTAL_SLIDES}
Enjoy smooth gameplay.

Observe smoother interactions to your gaming with Xbox One's 8-core custom CPU (1.75GHz).

Play bigger and immersive worlds.

Its 8 GB DDR3 of graphic memory lets you explore bigger worlds and execute action-packed missions at quicker load times and with more realistic details.

HD audio and video play.

Use your Xbox One to play Blu-Ray music and movie CDs. There's no need to buy and set-up a separate player.

Save your progress.

Don't worry about unfinished games. Your Xbox lets you continue gameplays where you left off.
eBay has provided more information about this product above and is not affiliated with or endorsed by Microsoft.
Price Trends
Microsoft Xbox One - Price New and Used
New Price*
from $289 to $347
Used Price*
from $175 to $215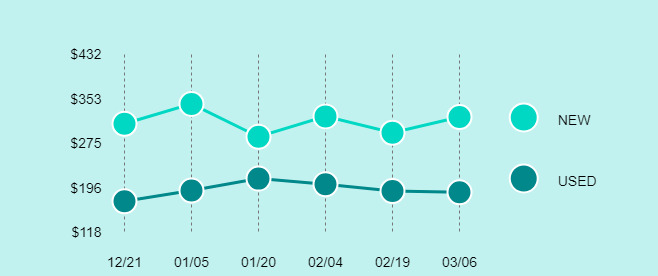 *The average sold price is calculated based on "Buy It Now" items sold within the 90 day period described above (excluding shipping and handling). Each interval represents a 15 day period. There is no guarantee that items will always be listed at a price within the provided range.
Compare Similar Models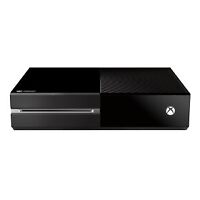 Microsoft Xbox One
Processor
Octa-core 1.75 GHz
Internal Storage
500GB/1TB
Maximum Games Resolution
1080p
Backwards Compatibility
Select Xbox, Xbox 360
Ports
HDMI, USB 3.0, SPDIF, Ethernet
Showing slide {CURRENT_SLIDE} of {TOTAL_SLIDES}
Top 5 High ratings
Top 5 Low ratings
Xbox One X

Microsoft got me again for another Xbox One. This time a One X. I bought a Xbox One for Forza 5, sold both on craigslist 2 days later. Bought another and Forza 6 at its release, and sold both in under a week. Im keeping this one. However there are things I dont like. MAIN dislike is the OS and home menu layout. Even the 360 has better menu functionality. Forza 7 'gameplay' still doesnt match Forza 4, but its better than 5 or 6 by alot. Visually tho its amazing. The other dislike of the One X is possibly my own fault due to expectations of a 500 dollar console, but everything the One X does requires alot of waiting. I get that the games are massive compaired to anything previously, but load screens take several mins depending on the game. Also the days of buying a new game, putting it in and playing it are over. It goes like this. Open game, insert game, find something to do for next Hr or so. For example Forza 7 loads 32GB from the disk, and downloads Another 64GB before install is complete. Fiber Optic internet is your friend. I have gigabit fiber, but on game release night it might as well be dial-up since every one that bought game is also downloading the 64GB update. All in all, system is amazing graphically, so much so that overlooking the dislikes is justified. Last thing to consider, is buy a 8 or 10TB NAS or at a minimum a 4TB external hdd. After system configuration your down to 700GB , and with games ranging from 60-100GB each theres not nearly an adequate amount of storage. If you record and save any 4k game play its drops that storage space at almost a 100MB a second. Lastly, if you own a One S already, save your money.

Verified purchase: Yes

Xbox one s

I have been an xbox player for approximately 6 or 7 years now. I tend to hang back and let others be the first to spend their money on `the latest and greatest` until a lot of the bugs are worked out and the prices drop. I had held back long enough that my gaming buddy and I were the last in our bunch to upgrade. When my husband and her family asked us what we wanted for Christmas we told them we wanted the xbox one minecraft bundle., We are both getting used to the new system, in many ways it is more confusing to find things on, but in other ways is also easier. It appears to be a good solid system and I have yet to find any real problems with the system itself., My main advice to someone just switching over is to be prepared for some major differences. I used mine for tv watching, internet surfing, bill paying, in short it was also used as my computer as well as my gaming system. In time I will probably use the new one much the same as I learn my way around it., The graphics are great, the gaming interaction is great, I love the faster processing time cutting down on lag in games and videos. The controller size is slightly different but not enough to make it hard to adapt to., I would recommend the new user watch any training videos they find for help in learning to navigate, especially if like me they use their xbox for more than just gaming. I have been using mine a week now and there are still a few things I haven't figured out how to do on this new one yet, but once I figure it out then I will feel more comfortable with the final full switch over., Please make note: When buying a new xbox 360 you would get a headset with it. The xbox one s does NOT come with a headset, so you will also need to purchase one., One thing I DO like about the new system is the way that my xbox gold now includes my husband on the few times I can convince him to join me gaming. Maybe some day I can get him feeling confident enough to play some COD with my partner and other friends., All in all, the overall feel of the xbox one s is a compact, well-designed system.

Verified purchase: Yes

Older Players Make Sure Your TV is at least 48 inches

I bought a 360 about 18 months ago and still had space left on it. Didn't need to upgrade. Didn't plan to upgrade. But I "accidentally" found this on sale for $229 and since it came with the kinect sensor and 3 games I decided to invest in it. At first I found it really hard to navigate and I also found that the "font size" on the dash and in game menus is much smaller than it was on the 360. That may not be a problem for people in their teens and 20's but I'm in my late 40's and my eye site isn't what it used to be. After several calls to tech support and message forum posts, I learned that the only two options for increasing the on-screen writing is my using a temporary magnifier that doesn't allow you to select items when magnified, or by using a narrator who reads EVERY SINGLE THING to you and that gets annoying real fast. My only solution was to buy a larger TV. So I went from a 37 inch screen to a 48 inch and I can comfortably read the dashboard menus, however some in-game items are still a little challenging depending on the maker of the game and type of item., , What I like about the Xbox most is the voice control options. It's pretty cool to just say, "Xbox On!" and the Xbox turns on, then it turns on my Kinect, my TV, and my Controller. I can tell it (with my voice) which programs to open or close, I can say "pause" and it will pause netflix for example, I can say "play" and it will play the show again.. I can also fast forward and rewind with my voice as well. I love this function. I also feel compelled to tell it "thank you" after it performs these functions for me but it doesn't acknowledge courtesy. lol, , I love the versatility of the Xbox One as well. You can watch TV on it, though I haven't yet because my antenna is connected to my Tivo and my Xbox 360 is connected to my Xbox One so I just watch TV on a different input/source. But it has all the streaming apps, it plays blurays, it plays games... it's a one stop shop., , Another downside is the game store. I liked the way the 360 broke things down by genre and it was a lot easier to find what I was looking for. I find this game store to be more challenging to navigate. Plus there's the game store, the game hub, and my games and apps, plus there are homescreen game pin areas.. it's a bit confusing to me. Too many places to get lost in., , Overall, I don't regret the purchase.. it was an excellent value for the price I paid and I'm sure I'll learn more as I go.

Verified purchase: Yes

Pretty Awesome Machine

Admittedly this review may be a bit biased as I have had no play time with it's currant competitors. But as a 40 year old who came into the scene with an Atari joystick in hand and owned every console ever made from the original Nintendo to the PS3, hopefully my past experience should be sufficient enough to qualify. I thoroughly enjoyed my 360 and this is basically the same machine with all the improvements imaginable. Very smooth interface, sleek looking and definitely a powerhouse of an engine, I've experienced no drag or lag and all the loading times have been pleasantly quick. I've struggled with my feelings between Sony and Microsoft in the past and I have many fond memories of the first Xbox and this one sort of brings them back with the fact that this thing is huge, as in a big bulky monster and a giant power adapter. Be sure to make room on your TV stand, it's about the size of an old VCR. And the controller took me a little getting used to as well after several months of owning only a PS3. Then there's the fact that it still takes the old standard AA batteries, bad form Microsoft, a rechargeable built-in is something you think they would have been able to implement by now. You also have to plan on putting aside plenty of time for loading new games as in several hours which of course ends up being totally worth it in the end by the way. But, like I said, not sure if this is the same case with other machines. These are my only complaints however. I have to say the price point (approximately 25% less than any PS4 I've seen) and the extensive library comparatively is what really weighed my decision to make this purchase. My favorite all time fighting game Killer Instinct made an exclusive return here for example and I have to say, it's almost worth the entire purchase price alone. The refurbished one I found was a great bargain too and it looked just like new out of the box with plastic that I peeled off. The slim version coming out this Fall should combat the size issues and hopefully make some improvements ergonomically on the controller. (I do just need to mention that I don't do the motion thing, so I did not buy the Kinect and this review in no way affiliates with any kind of motion capturing devices.)

Verified purchase: Yes

Great Gaming + Entertainment System

Received the unit few days back. Everything works perfect. Here the Pros & Cons., Pros, + Kinect : Easy to control XBox and TV with voice. The Dance / Fitness games are fun. Practicing Fantasia (got from Library) / Lets Dance 2014 (bought from BBuy)., + Hi-Fi Games : Games are so refined and next level in Graphics/FX. Trying to Play F1 2015. It takes time for newbies. Have to try the Top Rated Games (Halo 5, Just Cause, Gears of War, Tomb Raider). Am too a Beginner., + Smart TV Apps : If you have Non-Smart TV then this will make your TV Smart (NetFlix, HBO Go, you name it.)., + One Drive : I have lot of media on my One Drive. XBox fetches the content with my live id. Watching Photos with controller is awesome. Especially Zoom and Pan the images via RT, LT., + Blu-Ray : XBox can play Bluray discs. Need to install Bluray app. It's Free., + Free Games : Xbox has couple of free games on App store. I really like "Airmech Arena". It's online only game. But very good to play., + Design: The console design/Matte finish is great. Has plenty of vents for air flow. Fits well on my TV stand., + 360 games : MS released patch to play old 360 Games on XBox one. At present it has couple of games. Expecting MS will release more by 2016., + Motion Feedback : MS fixed rotors inside Game controller for players to feel motion feedback. It's fun when playing Race Games like F1, NFS., , Cons, - Time to setup : It took more than 20 minutes to setup for the first time. It downloads over 2 GB firmware update for XBox, Kinect and Controller., - Controller pair : At first the controller didn't get pair and xbox light was blinking for sometime. Then I searched for solution on google. Had to press the pair button on XBox console (on side above USB Port) and press Pair button on front side of controller. If you are familiar with XBox then it's not an issue., - Power Brick : Not sure why the Power brick is really designed like Brick. It's so heavy and huge. Does it have internal fan to cool the circuits? :), - Cables : The XBox Power cable and Kinect cable are so thick. For me, it's bit difficult to fit/hide in my TV stand. It's not big deal for many., + Free Space : 500 GB model shows 364.9 GB for Apps and Games. (Refer attached screenshot.) Installed 2 games and it took 36 GB. It's not a big deal. I still have plenty of storage left. If I used all, will attach my 2 TB Portable HDD., , Overall I like it very much and recommend to those who looking for Gaming + Media Center console.

Verified purchase: Yes