About Panasonic Lumix GM1
Showing slide {CURRENT_SLIDE} of {TOTAL_SLIDES}
Lightweight, slim and pocketable design.

Never miss a moment with this compact mirrorless camera, offering interchangeable lens capabilities in a pocketable point-and-shoot design.

Lens system in a "micro" body.

Enjoy the vast flexibility of the Micro Four Thirds lens system, which never fails to impress due to the "micro" camera size.

Large and vivid 3-inch touchscreen display.

View or compose images on the 3-inch responsive touchscreen display, which offers 1036K-dot high resolution for brilliant colors.

Use filters and other features to Indulge your creativity.

Utilize the Creative Control mode to add compelling filter effects or expand your creative potential with Stop Motion Animation and Time Lapse Shot.
eBay has provided more information about this product above and is not affiliated with or endorsed by Panasonic.
Compare Similar Models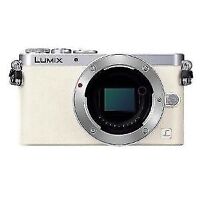 Panasonic Lumix GM1
Camera Type
Mirrorless Interchangeable Lens Camera
Lens Mount
Micro Four Thirds
Maximum Shutter Speed
1/16000
Showing slide {CURRENT_SLIDE} of {TOTAL_SLIDES}
Panasonic Lumix GX9

Camera Type

Mirrorless Interchangeable Lens Camera

Lens Mount

Micro Four Thirds

Maximum Shutter Speed

1/16000

Panasonic Lumix GX85

Camera Type

Mirrorless Interchangeable Lens Camera

Lens Mount

Micro Four Thirds

Maximum Shutter Speed

1/16000
Good, but not perfect

The m4/3 sensor is much better than the previous generation. Almost on par with the current ones. It's very small, so it's easy to take it with you. The built-in flash is good to have, because the reason for using this camera is to have something small, so a bulky add-on flash would be out of the question. However, I do miss the hot shoe, because sometimes you really do need a bigger flash (or a remotely triggered one)., The remote control over wifi is nice, but a bit unreliable with occasional disconnects even at very close range. (The same issue is with all Lumixes.), I would like one more Fn button, and it would be nice to have a focus ring on the lens., Like always with Panasonic it's not possible to switch between PAL and NTSC base frequency, which is unfortunate for a camera otherwise suitable for traveling to other countries with another mains frequency. It does have some kind of anti-flicker (off/50/60/100/120 Hz), however, which might somewhat alleviate this shortcoming.

Verified purchase: Yes

Full functioning MFT with the size of a point and shoot!

Bought this as a backup for my GX7. It's a great camera, amazing for its size! No viewfinder, of course, and controls are small, but functionality is fine--would be pocket-able with a pancake lens.

Verified purchase: No