About Roku Ultra 4660
Showing slide {CURRENT_SLIDE} of {TOTAL_SLIDES}
Enjoy full HD and 4K video content.

The Roku Ultra supports high-definition and ultra-high-definition video formats, allowing you to stream everything from 1080p television programs to 4K movies.

Simplify your streaming with complete mobile compatibility.

Take the convenience of the Roku Ultra to the next level by syncing the streaming device with your mobile phone.

Rest easy with remote voice activation and content searching.

After the initial set-up, you can use the Roku remote to search for and subsequently stream video content via voice-activated commands.

Keep track of your device with remote tracking.

If you misplaced your remote, simply activate the Roku lost remote finder. This prompts the remote to begin emitting a tone to attract your attention.
eBay has provided more information about this product above and is not affiliated with or endorsed by Roku.
Price Trends
Roku Ultra 4660 - Price New and Used
New Price*
from $71 to $82
Used Price*
from $47 to $61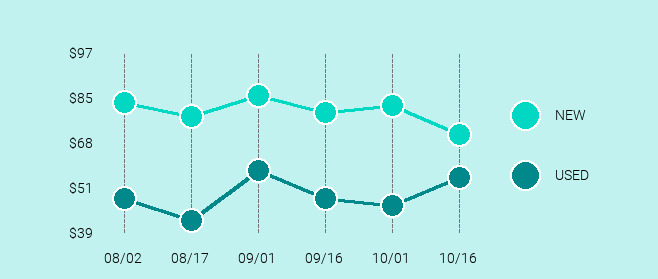 *The average sold price is calculated based on "Buy It Now" items sold within the 90 day period described above (excluding shipping and handling). Each interval represents a 15 day period. There is no guarantee that items will always be listed at a price within the provided range.
Compare Similar Models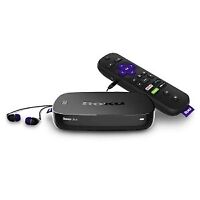 Roku Ultra 4660
Sound Channels
Device-Dependent
Internal Memory
512 MB, MicroSD
Wireless Connectivity
Wi-Fi
Showing slide {CURRENT_SLIDE} of {TOTAL_SLIDES}
Top 10 High ratings
Top 1 Low rating
Roku Ultra Rocks - Excellent A/V - Fast Easy setup

This is my 3rd Roku device, 2 Roku Ultra's and 1 Roku TV, the setup was a breeze and really not a pain as others state. This unit works excellent, is much faster, no lag and sync is purrfect! Picture quality and audio is excellent! Best part of the whole deal was calling the cable company for disconnect. With this unit I get everything that was on cable, including local news for half the cost and can use it on 6 TV's w/o the expense of paying for additional cable boxes! The remote is awesome - controls TV on/off and volume so you can put away all your other remotes. The headset feature works really nice! Voice search seems to work well although haven't used it that much yet. Another great feature is finding the remote if lost. Just push the button on the Roku device and the remote starts talking! I have a 20Mbps DSL connection and streaming to 3 sets a once with no issues! There is no buffering on any set. I would recommend this unit to anyone who was interested. The Roku Ulta rocks. I give this product 5 Stars all the way around - picture quality is actually better than cable!

Verified purchase: Yes

Best Roku Ever!

This is my second Roku. Although my old Roku experienced some difficulty staying connected to my home WiFi, this new and improved version has not had a single issue!! It would have been nice if they had provided a back lit remote so that you could see the remote buttons in the dark. But.... the volume buttons on the side of the remote, the headphone feature and voice command are very nice upgrades that I use frequently. I was sceptical about the headphones but sound quality is good!! This is winner!!! Will buy another soon.

Verified purchase: Yes

Best Product For Streaming--Best In Price

Best for the money, great product. If you're looking for a great streaming device this is the one for you. Set up is easy. JBL headphones are excellent if you want to keep noise down for your neighbors, although I keep the noise down anyway. Roku is the best streaming device out there, wanted to try the newest. Package comes with what you can get to stream with, but I keep the basics as I don't need much. Streaming is good with 1000 MB of service. Streaming is very crisp, clean and clear.

Verified purchase: Yes

Easy setup and to use

The new Roku Ultra 4K is easy to setup, not much of new learning the remote and its functions and was able to use it right away. Linked the on/off for TV, Receiver and the volume. I like it so far, quite fast and no more programs buffering - due to improved WiFi connection and memory. Would highly recommend it to others, as this device is neutral to any and all service providers

Verified purchase: Yes

Roku for us is best of breed!

We have Apple TV, got (and got rid of) a Fire Stick and now have 2 Roku's, one upstairs and one down. Our other Roku is a Premiere+. The Ultra is excellent as well. Best remote of all of them by far! The headphone jack is a big plus even if you use an external sound source as we do normally (easy to switch outputs in TV settings). Definitely recommend.

Verified purchase: Yes

Excellent player!

Big step up from the Roku 2. Didn't like the set up but got thru it. The streaming is much higher quality even when not watching 4K movies or shows. Speed for everything is much faster also. I really like the new remote; heavier and better quality and nice features too. Worth buying as a first Roku or def upgrade to this one.

Verified purchase: Yes

Definitely an upgrade.

This unit is definitely an upgrade from my older Roku devices. It's faster and the Roku remote allows me to control the sound volume and on/off settings from it instead of using a separate remote that came with my tv. It automatedly detected the manufacturer and model of my tv. Very easy setup, at least in my case.. . .

Verified purchase: Yes

Cut the cord

It took a few days to change my habits but I stopped using satellite TV and now use just the Roku. The ultra lets you power the TV on and adjust the volume so now I have just one simple remote. It's so easy to setup it detects the TV you have and adjusts the remote for you.

Verified purchase: Yes

I like, so I bought my daughter one for her TV

These devices are great. I wish the buttons on the remote could be modified to open the channels I use the most. I only have 1 quick button that I actually use. But aside from that, the Roku gives me access to my streaming services. Beats the Apple TV price

Verified purchase: Yes

Good Upgrade

Overall the Roku Ultra has been a good upgrade from the outdated Roku we had previously. There have been a couple of minor glitches with the Ultra --related to slow response to the remote. Some of that may have more to do with Wi-Fi than with the Roku Ultra itself.

Verified purchase: Yes